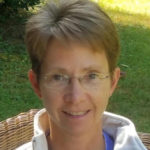 Liz Giles-Brown, physical educator and author with over 25 years of experience, currently teaches at South Bristol Elementary School, a K-8 school on the coast of Maine. She has worked as a physical education curriculum chairperson, provided leadership in assessment work, worked on state assessment development committees, served on the expert review team for the ASCD's UbD ® online unit exchange, has presented
numerous workshops for physical educators, and is the author of The Physical Education Assessment Toolkit. With a strong interest and commitment to Understanding by Design UbD ® and brain compatible teaching and learning, Liz works to apply those principles to her planning, teaching and daily interactions with children. She has also connected with classroom teachers to develop ways to "move their content" collaborating to develop multi-sensory learning experiences.
Liz did her undergraduate work at Plymouth State University and received a Master's Degree from The University of Maine in Physical Education Curriculum and Instruction. Maine's Association For Health, Physical Education Recreation & Dance has recognized Liz with their Elementary Physical Education Teacher of the Year Award and Distinguished Leader Award for her contributions to the profession.
Areas of expertise
Understanding by Design
Brain Compatible Teaching and Learning Strategies
Assessment in Physical Education
Website
www.learningonthemove.org