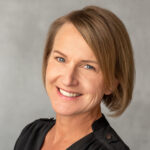 Dr. Amy Heineke is the Associate Professor of Bilingual & Bicultural Education in the School of Education at Loyola University Chicago. She holds a Ph.D. in Language and Literacy and M.Ed. in Curriculum and Instruction from Arizona State University, where she began developing her expertise and advocacy related to teaching culturally and linguistically (CLD) students, including those labeled as bilingual and English learners (ELs).
Her work centers on preparing both pre-service and in-service teachers to promote disciplinary learning and language development of all students, with particular lenses on CLD students and ELs. She works extensively with Understanding by Design®, adding the lenses of cultural diversity and language development to the framework to promote rigorous teaching and deeper learning for students from diverse backgrounds.
Amy has published numerous journal articles on preparing teachers to support students' language development in academic outlets, including the Journal of Teacher Education, Action in Teacher Education, Teacher Education and Practice, Urban Education, Improving Schools, and Teacher Education Quarterly. She recently finished a book entitled Restrictive Language Policy in Practice: English Learners in Arizona, published in 2016 by Multilingual Matters.
With 15 years of experience in teaching EL and bilingual students and teachers in Arizona and Illinois, Dr. Heineke teaches university courses including Assessment of Bilingual Students, Applied Linguistics for Teachers, and Culturally Relevant Literature for Children and Adolescents. She regularly consults with schools and facilitates professional development for educators of CLD students teaching in both English-medium and bilingual settings.
Using the UbD framework in working with:
Culturally and linguistically diverse students
English language learners
Bilingual education
Academic language development
Culturally responsive practice